What are the benefits of dry brushing? Let me count the ways….
Did you know that the skin is the largest organ of the human body? On average, adults carry some 8 pounds (3.6 kilograms) and 22 square feet (2 square meters) of it. (1)
That is a whole lot of skin and it's very important we take care of it. That's why I'm an advocate for dry brushing.
Note: If you want to learn more about our largest organ and how it works, read this.
The benefits of dry brushing are plenty. It can help unclog pores and remove toxins from under the skin, as well as stimulate circulation while doing so.
This isn't a new concept – in fact, it has been used for centuries by Scandinavians and Russians. More than 30 years ago, a Finnish doctor by the name of Paavo Airola prescribed this technique for his patients to detoxify, exfoliate and stimulate the skin. (2)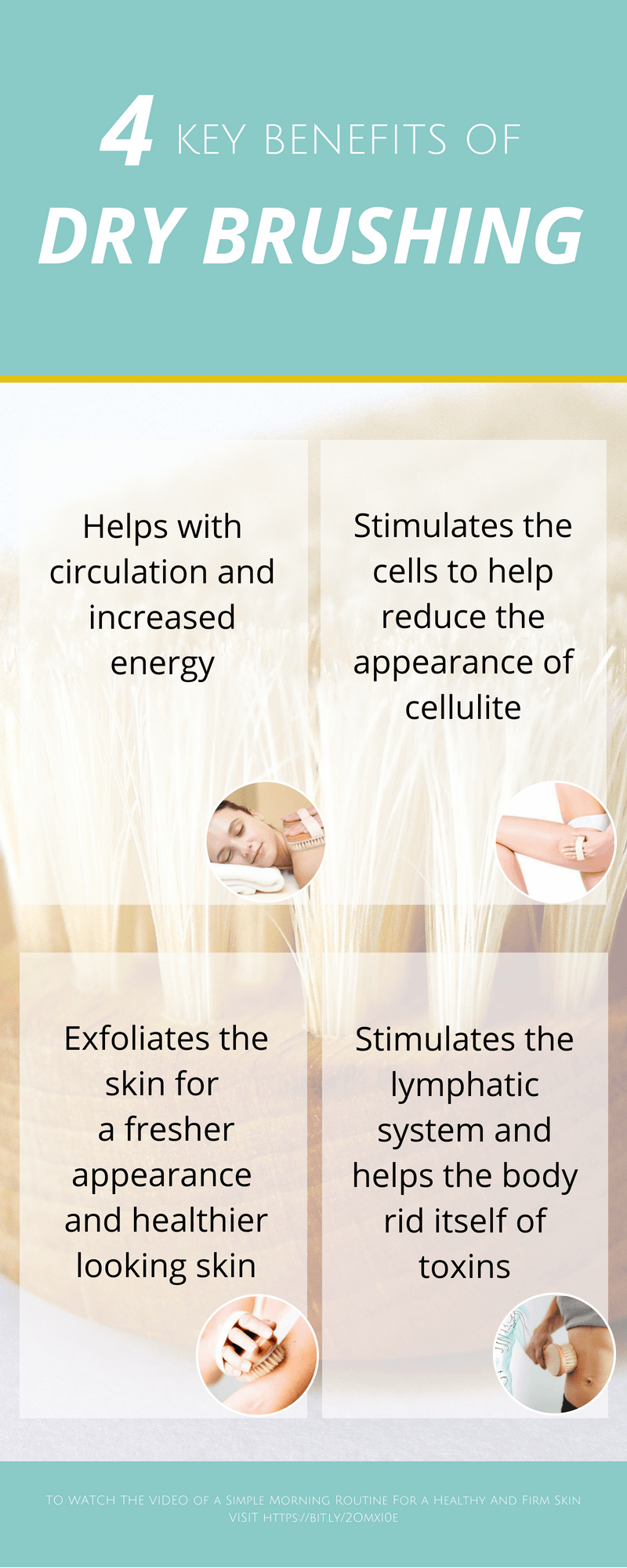 Here Are 4 Benefits Of Dry Brushing:
Helps with circulation and increased energy. I do my dry brushing routine in the morning, before I shower. Proponents of dry brushing state that it can increase circulation because you are stimulating the skin and nerve endings. It feels great and I always have a rush of energy before I hop into the shower.
Helps to combat cellulite. Ladies, do I have your attention now? Cellulite is really just fat underneath our skin, but it pushes on the connective tissue which gives it that outward appearance of cottage cheese. Dry brushing may help stimulate the cells and break down toxins from beneath the skin to help reduce the appearance of cellulite.
It exfoliates the skin. This is a very important benefit of dry brushing. As we age, it's important to remove dead skin cells from the body to aid in the skin renewal process. You'll have a fresher appearance and healthier skin.
Stimulates the lymphatic system and helps the body rid itself of toxins. The lymphatic system removes toxins from your body and it helps prevent you from getting sick. Your skin also aids in this process by releasing some of those toxins from the body. By using a dry brush, we are stimulating the lymphatic system and then also exfoliating dead skin cells to aid in eliminating these toxins from the body.
Watch the video below to see my tips on how to dry brush!