Travel Period: August 2017
Leaving From: Montego Bay, Jamaica
We went on a Cuba Cruise aboard the Celestyal Crystal Cruise Line in August (which is probably one of the hottest months to visit Cuba).
If you are looking to explore Cuba without having to do much planning, then I highly recommend a cruise.
---
P.S. – Want to hear something cool? My music producer fiancé just released his latest track with the sounds that he recorded in Cuba. Pretty Neat!
Check it out and enjoy the post while listening to it :)
---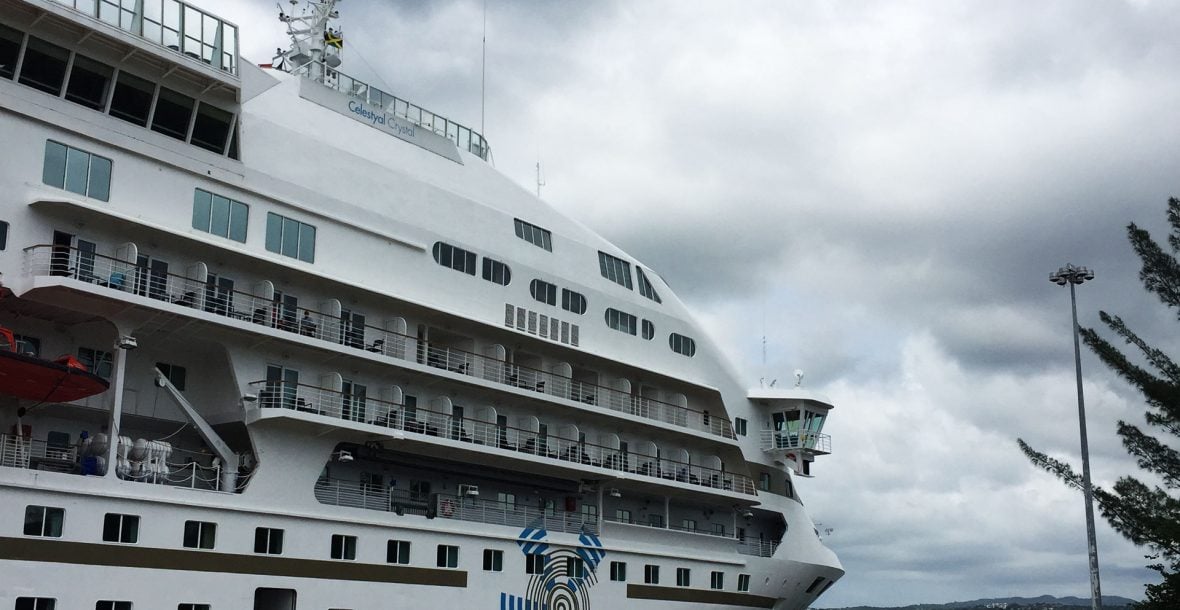 This Cuba cruise was particularly well done. They organize the visa for you since you are entering from Jamaica and considering this is becoming a tricky subject for American's, this is probably your safest option.
Every night the Celestyal Crystal Entertainment Team put on a FABULOUS show highlighting an area of Cuban culture as part of the Person2Person visa that you are traveling on.
The nice thing about a cruise is that all of your meals, excursions, and entertainment is planned for you. So if you just need time to relax while learning about another culture, then a cruise is a great option.
Getting There
We chose to board the cruise ship at Montego Bay, Jamaica and ended up attaching a weekend in Jamaica to our holiday :) There is also an option to board in Havana, Cuba, but for US citizens it's much easier to get to Jamaica than straight to Cuba.
The Itinerary
Board in Montego Bay
1 Day in Santiago de Cuba
1 Day at Sea
2 Days in Havana
1 Day in Cienfuegos
1 Day at Sea
Disembark Montego Bay
The Excursions
The cruise website lists all of the excursions you'll do, so I'll just link to them. All of the tours were very good in the sense that you cover a lot of ground,  but bear in mind that they are your stock standard tours. You get on a tour bus, watch a show, check out a museum and then come back to the cruise for lunch.
Make sure you have cash because you are expected to tip at all of the shows (they will accept American dollars in tips too).
Santiago de Cuba: http://americas.celestyalcruises.com/en/santiago-de-cuba-cuba-cruises
Cienfuegos: http://americas.celestyalcruises.com/en/cienfuegos-cuba-cruise
Havana: http://americas.celestyalcruises.com/en/havana-cuba-cruises-destination
You can choose extra excursions which cost money (like the Buena Vista Social Club or Tropicana Cabaret) as listed on the website, but if you don't want to do that, check out some of the other places I listed below.
What To Do When At Sea?
You'll have two days at sea and there are lots of activities on board the ship to keep you occupied. You'll get an itinerary of things you can do every night before you go to bed.
We did dance lessons (Mambo, ChaCha, Salsa), cooking classes, relaxed by the pool, read books and ate A LOT of food. There is a spa on board, so you can book a massage or use the complimentary gym, sauna or steam room.
The Currency
There are NO credit card facilities so you must take cash if you plan to go onshore and not do any of the planned cruise activities. We took about $100 USD cash for each person for 4 days. We didn't exchange it all though – I just wanted to make sure I had enough cash in case.
Here's a picture of the two currencies. Tourists use the Pesos Convertibles (left).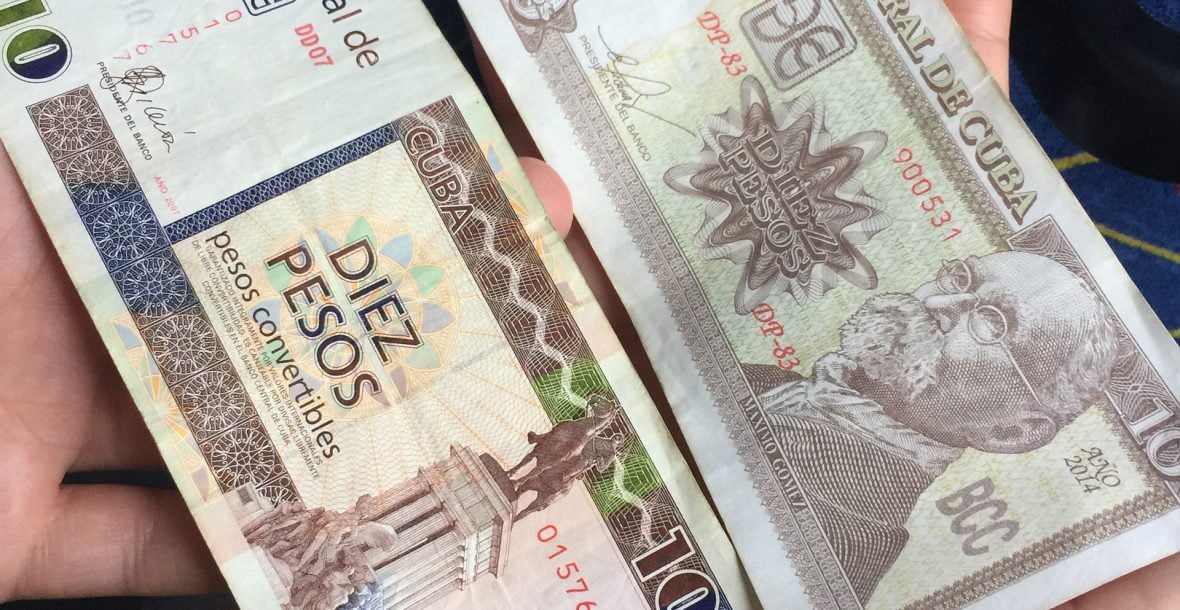 They actually have 2 currencies – The CUC (Cuban Convertible) and the CUP (Cuban Peso). You'll be using CUCs as this is the currency specifically for tourists.
There is a 10% tax to exchange USD + a 3% exchange fee. So for $100 USD, you'll get about $87 CUC.
Once you step off the ship into the port, there will be a place for you to exchange currency.
Here's a great article about the Cuban currencies.
What To Pack
I recommend light and comfortable clothing, walking shoes and a hat for your excursions. (A hat is a must have if traveling in summer!)
You'll also need to bring a really nice outfit for the formal Captain's Dinner plus you'll need semi-formal wear for dinner each night. There is always a show after each dinner so it's nice to dress up and enjoy the evening.
Take a backpack for your onshore excursions – one that you can fold up and keep in your suitcase aboard the ship.
And of course, I didn't leave home without my trusty essential oils!
I made my own cooling mist by mixing 1.5oz water with 8 drops of Peppermint Essential Oil in a spray bottle. It also tripled as a breath freshener and deodorant. Air conditioning is not common at all in Cuba, so this was a lifesaver for staying cool in the humid summer heat while we were doing excursions onshore.
You'll need to bring the essentials – toothpaste, deodorant, toothbrush, sunscreen, etc. You can buy these on the ship but it's overpriced and you won't be able to buy these items on shore because there are no convenience stores.
Activities To Do On Your Own
You'll have two full days in Havana Cuba, so if you don't want to stick to the regular tourist schedule, here are a few places I recommend checking out.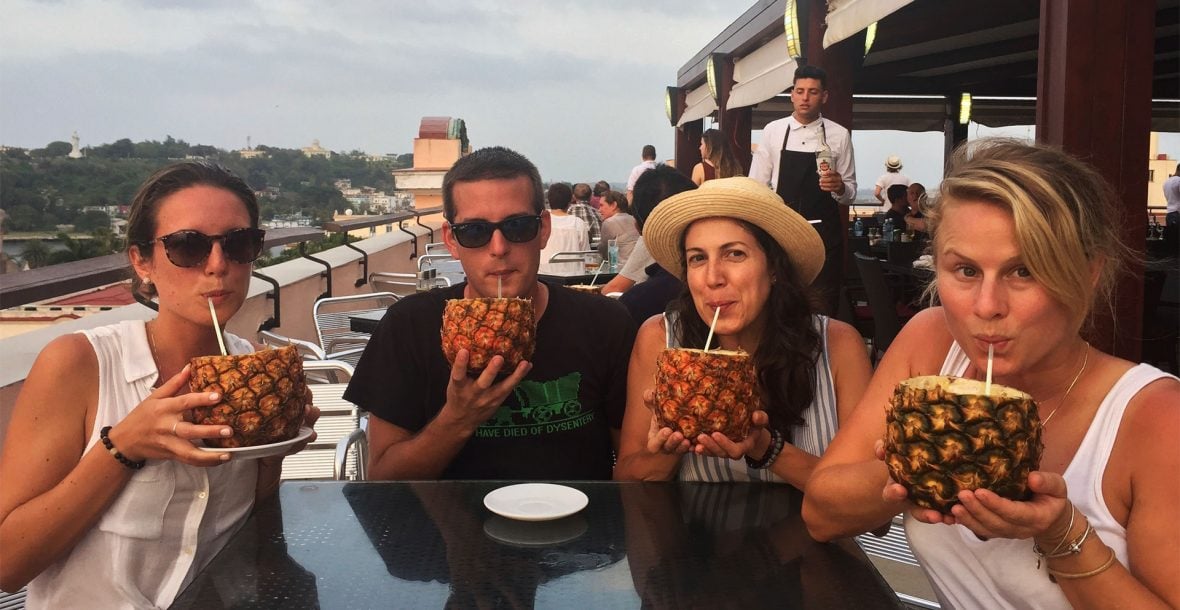 Come up here for sunset and enjoy a Pina Colada while overlooking all of old Havana. They will bring it to you in a fresh pineapple and will pour the famous Havana Club Rum in there :)
This hotel was a favorite of Ernest Hemingway (he spent a lot of time in Cuba and Key West) and there is actually a small museum dedicated to him in this hotel.
Apparently, the lobster is actually quite good in Cuba and it is also nowhere near the price of lobster in Maine.
If you are looking for a nice place to eat after you tour the Revolution Museum, this is a good option. The food and atmosphere were great (try the pasta!)
This is a fun cantina off the beaten track, recommended to us by our local Cuban tour guide. It reminded me of a hip bar that you would stumble upon down the streets of Melbourne, Australia.
Paladar
A paladar is a small family-run restaurant in a Cuban home so it's the best way to taste traditional Cuban food. You'll see these places everywhere. They always have a good price and you get four courses and a drink.
It was about $12 CUC pp for lunch.
Come out to the best salsa club in Havana. Get those hips moving and try salsa, or enjoy a Havana Club and chill out on the patio under the stars.
Note: There was a $5CUC cover fee when we went.
My Conclusion
If you are really keen to go to Cuba, traveling on a cruise is a great option. Given the current travel restrictions to Cuba, this is probably one of the safest ways to travel as an American.
The cruise will give you a paper at the end of the trip to certify that you did this cruise as a People2People exchange.
P.S. –  I also traveled to Cuba with friends for a 4 day weekend in Havana, Cuba. To learn more about that trip and how I got there from the USA, click here.
If you have any questions about my trip, leave a comment and I'll answer as best as I can!
Happy traveling folks :)