Perfume mixing, like music is made from notes. When used in harmony, these notes complement and accent each other to create an enjoyable aroma.
So when coming up with my DIY Home Spray, I carefully thought out which 'notes' would compliment each other.
There are 3 'Notes' that you'll often hear about when researching the art of perfume mixing.
Top Notes
These are the fastest evaporating oils and the most immediately noticeable scents in a freshener. They diffuse quickly and tend to be light, crisp and penetrating.
Middle Notes
Also called 'Heart Notes' – these are the notes that should make up the main body of the blend. They soften and round out the fragrance to harmonize the mixture.
Base Notes
The scents from these oils are usually not recognized until several minutes after application. Base note fragrances tend to become more pleasant over time and can give depth to a blend.
Use the chart below as a good quick reference guide for which oils to use and in which percentage of the blend.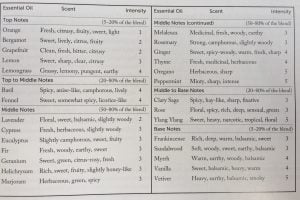 Learn to trust your nose as it can help you decide which classification an oil should be in :)
Happy perfume mixing!
Source: Modern Essentials