Here's where you can go in Croatia. This overview is for traveling between Split, Hvar and Dubrovnik and the surrounding islands.
The Essential Info
Croatia is a popular tourist destination in the Mediterranean and with its beautiful islands and position on the Adriatic sea, it also means it's a popular hotspot for Cruise ships.
If you're yearning for a typical Mediterranean holiday with a lot of fun in the sun, then the peak time to travel is June – August.
However, I recommend visiting Croatia in September or October, when the cruise ships have left the ports (especially if Dubrovnik is on your list) and everyone is back in school.
Arriving
If you're planning on visiting a few of the Croatian Islands, there are two major airports where you can land – Split and Dubrovnik.
Split is smaller and more expensive, but it's close to all the major islands. Dubrovnik is a bigger city so larger airlines tend to fly there.
If Hvar is on your itinerary, then Split is the shortest access.
If you're traveling from the USA you'll most likely need a connecting flight. Major cities like Paris, Barcelona, and London all fly to Split and Dubrovnik.
Upon entry, a 90-day Tourist Visa is granted to USA / AUS citizens at no cost. Here's more info on the visa.
Currency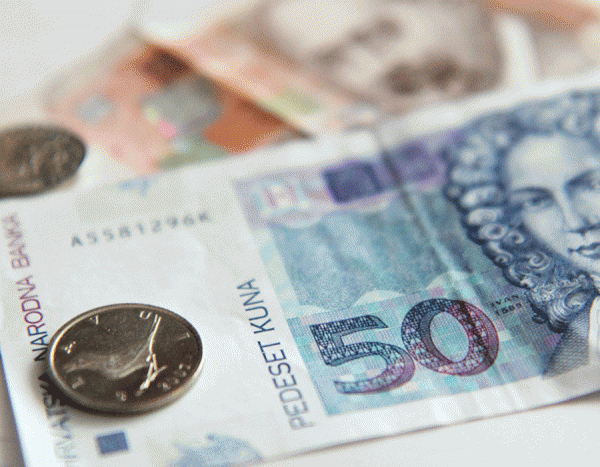 The national currency is the Croatian Kuna. You can check the rate here, but as of Aug 2018, the rate is approximately $1 USD to 8 Kunas.
Don't let that conversion fool you though. If you're planning on visiting the islands or Dubrovnik, expect to still pay almost $20 USD per meal.
There are cheaper ways to eat, which I'll mention below.
Will my US Phone Work?
If you are on the T-Mobile One plan then YES! I had access to the internet and text messages but would be charged if I made a call.
Otherwise, call your carrier beforehand and find out what roaming packages will cost you.
You can also purchase a SIM card and data while you are there.
Getting Around
There are 4 options – Bus, Ferry, Car Rental, Uber
Transport by bus:
Buses are good transport and they are quite cheap.
The bus from Split Airport to Split Ferry Terminal – was about $5 USD per person (40 Kunas)
The bus from Dubrovnik Ferry Terminal to Dubrovnik airport was similar.
Car Rental:
The car option is only inexpensive if you plan on dropping it back at the same location. Most car rentals will impose a one-way drop off fee ($75 – $100 USD) and it can be costly on top of hire fee, petrol, and insurance.
If you want the flexibility to explore inland without relying on public transport, then this is a good option. However, it's not necessary since Uber is available and most of the towns are small and walkable.
Ferries:
During the summer months, ferries, including car ferries, travel quite often and it's an inexpensive way to get from island to island.
The ferry schedules for the two most popular companies are below:
Popular Ferry Routes
Split to Hvar – $15 USD pp (90 Kunas) one way  – 1-hour trip.
Hvar to Dubrovnik – $45 USD pp (295 Kunas) one way – 3.5-hour trip
Private Sailboat Rental
This is a great way to see all the islands for a week on your own schedule. You can hire a sailboat with a skipper who will take you around to any islands you want to see (within your timeframe). It's great for parties of 8 so you can split the costs.
It's cool to see the islands with a local. We used Aba Vela Charter for our sailboat hire back in 2015 and had a great time!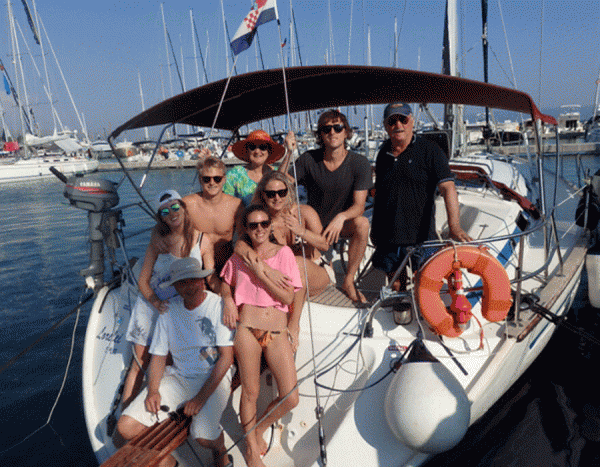 What To Pack
Croatia has a mild climate because of its position in the Mediterranean, but like most places, it can fluctuate from cold to hot.
Check the temperature for the time of year and pack accordingly.
I prefer clothes that are versatile and easy to pack like:
Long dresses
Sandals
Sneakers
Jumpsuits
Windbreaker / Rain Jacket
Shorts
1 pair of pants
1 sweater
T-shirts
2 pairs of shorts
Sunscreen
Hat
Sunglasses
Swimwear
What's the Food Like?
If you're visiting the islands, you'll have a lot of fresh seafood options. We ate seafood like cuttlefish, octopus, and a lot of shellfish.
Definitely try the Cuttlefish Risotto if you have the chance. You'll see it in a lot of places and it tastes delicious!
The Dalmatian Coast is also known for their salamis and meat selections, however, I don't eat meat, so I can't recommend anything. Here's a good article for a Carnivore's Guide To Croatia.
The olive oil is also incredible, so make sure to enjoy it with fresh bread before your main course.
If you're looking for cheap eats, visit the bakeries. You can get fresh pastries and breakfast rolls for $2 USD, which is well under the common price of $10 – $15 USD for breakfast.
How Long Do I Need?
1-week minimum so you can travel and see many islands and destinations.
Looking for what to do in Hvar or Dubrovnik?
Check out these guides:
Have you been to Croatia? Leave us some tips in the comments below!